DESIGN A SPACE FOR THE THINGS YOU LOVE TO DO
Are you the type of creative to routinely spreads out your projects on the kitchen table? While crafting can be a therapeutic experience, it can be frustrating to work in shared multi-purpose spaces. Creating a designated craft room or hobby room is a great way to organize all of your creative supplies, putting everything you need for your hobbies conveniently in view. A craft space gives you the freedom to stop in the middle of a project, close the door & know that everything will remain undisturbed until you can return to your work.
At Top Shelf Closets, we provide the tools you need to create the ultimate craft & hobby room for your needs, complete with cabinets, storage drawers, dividers & more to help you store all of your crafting supplies in a completely custom way. Your options are only limited by your own imagination – and our designers are here to help you every step of the way.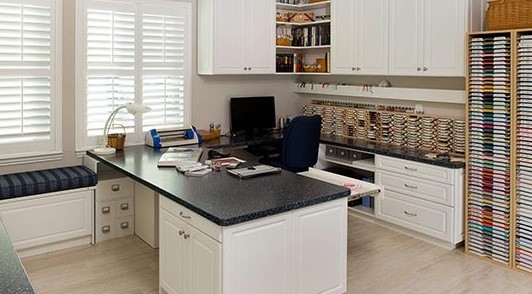 INTERESTED IN LEARNING MORE? CONTACT US TODAY!